We would like to welcome Cliff Lee aboard the good ship Dramamask Publishers with his book 'North Devon – A Unique Insight'.
---
Artist Cliff Lee, experienced a near fatal stroke in 2013 at the age of 39. Many a soul would have crumbled at the staggering impact of this event, but not Cliff. Over the last few years Cliff has taught himself to create a new style of artwork with his non dominant hand, and has gone on to stage many exhibitions in the North Devon area. Cliff remains positive and focused on his goals. An inspirational refreshment to all that meet him. All the work in this book has been produced by Cliff since his stroke. Darren Lee, Cliff's eldest brother, supports Cliff in his journey, and has created the descriptive writing to go with Cliff's pictures.
---
'North Devon – A Unique Insight' by Cliff Lee.
Illustration, artwork and book design by Cliff Lee.
Narration by Darren Lee.
Published by Dramamask Publishers.
You can buy 'North Devon – A Unique Insight' at Amazon, or contact Darren Lee directly.
---
North Devon – A Unique Insight by Cliff Lee at Amazon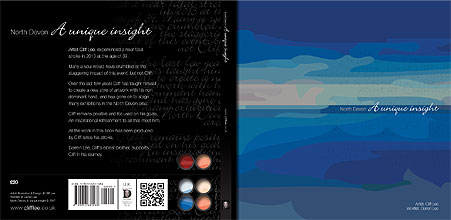 ---