Orgasmandala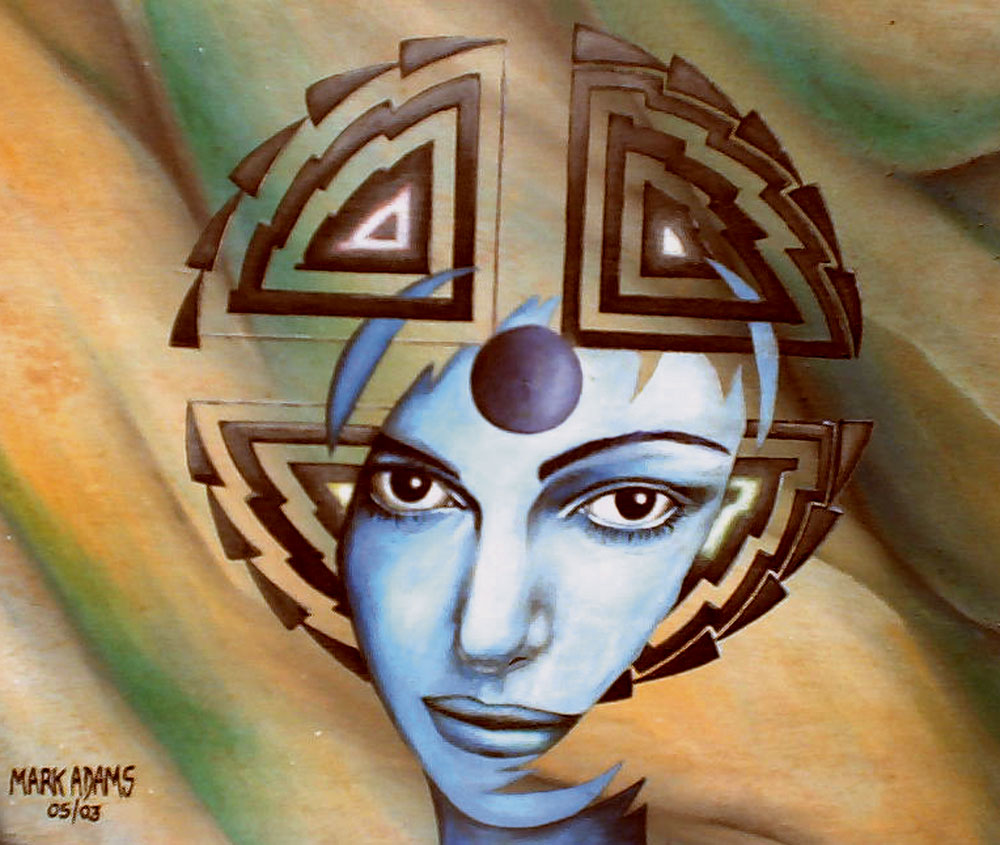 Painted in 2003 and influenced by Eastern and Western spiritual, philosophical and psychological ideas.
The 'mandala' surrounds and crowns the female form of Vishnu, also known as Mohini from Hindu tradition. The mandala is also split into four, representing dominating traits in the human personality, inspired by Jungian psychology. The traits are taken from a group of eight traits, which divided into two, gives four traits with their opposite four.
The female represents the feminine part of the psyche contained within a male, which according to Jung, is the spokesperson and bridge which communicates between a male's unconscious and conscious mind – the communicator of dreams, visions, ideas and intuitive information. Jung calls this entity the 'anima' which means 'soul' or 'mind'. The opposite exists within the female and is called the 'animus' and appears in male form.
Orgasmandala represents the arrival of an idea, insight, or epiphany, when the individual finally integrates what is communicated from the unconscious mind via the anima to the conscious mind, which may arrive as a problem solved or a feeling through intuition, realised by the conscious mind. A psychic (meaning, relating to soul or mind) orgasm, which leads to a further understanding, contributing to balancing the mandala, representing the individual's psyche as a whole – striving for a balance between the unconscious mind and the conscious mind, or dark and light parts of the soul, or mind.
The mandala emanates from the indigo orb situated at the centre of the mandala and at the centre of the anima's forehead – representing the source of all things, or pure consciousness, where light and dark, good and evil, and all opposites do not exist. An undivided unity, not separated by a human perception of duality and fragmentation. An eye of insight, or 'anja', as it is known in Hinduism.